Turkey Vultures Love California: Facts and Photos
Let's Hear a Shout-out for Turkey Vultures!
As I write this on the first Saturday in September, many in the world are celebrating International Turkey Vulture Awareness Day. For those in  countries without turkey vultures, it's simply International Vulture Awareness Day. In any case, the world recognizes that too many people don't give the vultures enough  credit for the important work they do in cleaning up the earth. Instead, we turn away if we see our vulture friends, also known as buzzards, doing their job. No one else wants to eat the road kill or the remains that the coyotes and other predators leave behind, but few want to watch the clean-up process.
Turkey Vultures Hunt for Dinner from the Sky
Although we may not enjoy watching turkey vultures eat dinner, we don't mind looking at them in the air hunting for  dinner. We appreciate the air show these bald-red-headed birds put on for us. Did you know that they don't spend too much energy flying? When you see them swirling around in the air they are actually are rising to catch thermal drafts for a free ride. They can soar for hours at attitudes of up to 20,000 feet without needing to flap their wings.
Here is a turkey vulture taking advantage of the thermal drafts. Do you see any flapping of wings?
It's amazing to me that these birds can locate their dinner by not only sight, but also smell, from high in the air. They can smell dead animals from a mile away. They have the largest olfactory systems of all the birds. Unlike other birds of prey, they aren't equipped to kill their own food. They do prefer their meat fresh, though. They they don't like carrion over 48 hours old.
Mealtime for Turkey Vultures
Although I've often passed turkey vultures dining on dead deer or rodents on the side of the road, I've never been able to take a video.  I have borrowed someone else's video to show you a turkey vulture feasting on rabbit.
Our Templeton property has several acres of undeveloped land which provides habitat for deer, quail, and rodents. I have seen opossums, skunks, rabbits, ground squirrels, gophers, and other small animals. That is probably why there are almost always turkey vultures and hawks in the air. The vultures and hawks also patrol the vineyards. Although one often sees turkey vultures gathered around carrion, they eat one at a time — not all at the same time. Even a hungry vulture has to wait in line, unless he's at the top of the pecking order. Notice how this works in this video.
Next time you see a turkey vulture in action, think how our world would look and smell if they were not busy as nature's cleanup crew. I will leave you with this bit of humor from Zazzle — not your typical Thanksgiving card.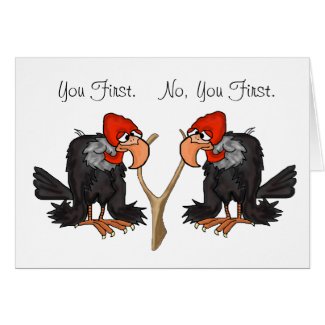 Turkey Vultures With Wishbone Thanksgiving Card
Find more Thanksgiving Cards at
Zazzle
Have you learned anything new about turkey vultures? See more photos of turkey vultures at Looking Up to Turkey Vultures. Facts for this post were mined from a post by Cornell Lab of Ornithology and Facts about Turkey Vultures on the Audubon California Kern River Preserve Site.  The photo below is just the right size to pin if you want to share this.
***
Related articles